The Option Method

The Option Method asks five key questions that help find a new interpretation of what is causing your stress, anxiety, relationships problems and more.

"What am I unhappy about?"
"What is it about that, that makes me unhappy?"
"Why am I unhappy about that?"
"What am I afraid it would mean if I were not unhappy about that?"

Learn More About The Option Method


What is the Kolbe A Index?
Kolbe Index Defined
There's a type of stress people don't talk about: the stress of trying to act like somebody other than your true self.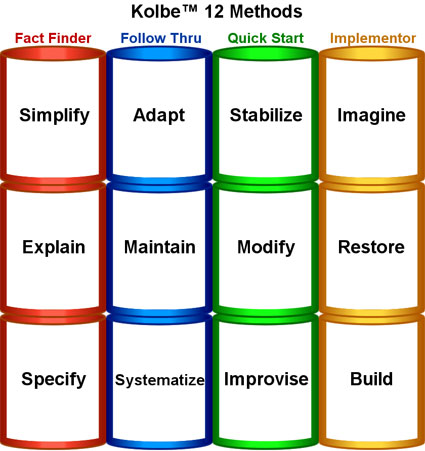 Kolbe can help you relieve this burden by showing you how to be free to be yourself. Identifying your natural talents will help you understand how you do your best work and why certain things come so easily to you while others do not. You will learn to emphasize the things that come most naturally to you and stop fighting your natural instincts.

If you are feeling stress at work, the Kolbe B™ Index can tell you if you are placing unrealistic expectations on yourself. Or, if your spouse keeps expecting you to be someone else, Kolbe's Relationship Pack can help both of you reach a resolution.

See Kolbe Index.




Byron Katie's "The Work" provides you with four questions and the turnaround to be applied to your current stressful thought. Send that thought away PERMANENTLY with this process. Byron Katie's "The Work" on this site provides a video demonstration, a PDF worksheet and a rare link to a 22-page instructional book.

Description (from the website): "The Work of Byron Katie" is a way of identifying and questioning the thoughts that cause all the fear and suffering in the world. Experience the happiness of undoing those thoughts through The Work, and allow your mind to return to its true, awakened, peaceful, creative nature."



The Radical Forgiveness Process and Worksheet

(From the Radical Forgiveness website): 'You cannot be in a peaceful state if you are holding resentment and anger about things that have happened in the past or continue to rob you of your peace even now. It is incredibly disempowering to make others responsible for your lack of happiness.'

'The answer, of course, is forgiveness. But don't worry. We have a way to do it that is not at all difficult. It's not like conventional forgiveness which is hard to do and rarely works. Radical Forgiveness is a simple step-by-step process that is fast, easy and extremely effective. It provides tools that enable you to quickly release whatever energies you are holding onto.'

~Colin Tipping, author of Radical Forgiveness

You can read the first chapter of Colin Tipping's book to learn why this worksheet is so powerful. I found that this was all I needed to get excited about this work and to complete the worksheet. I've provided a free PDF link so that you can work on a situation you are struggling with.

Forgiveness Worksheet
More freebies and downloads from Radical Forgiveness.