Emotional Intelligence :
The Workplace Success Indicator
EQ is considered five times the performance indicator in the workplace vs. IQ. Do you have these components?



Do you have this type of physical awareness regarding your emotions?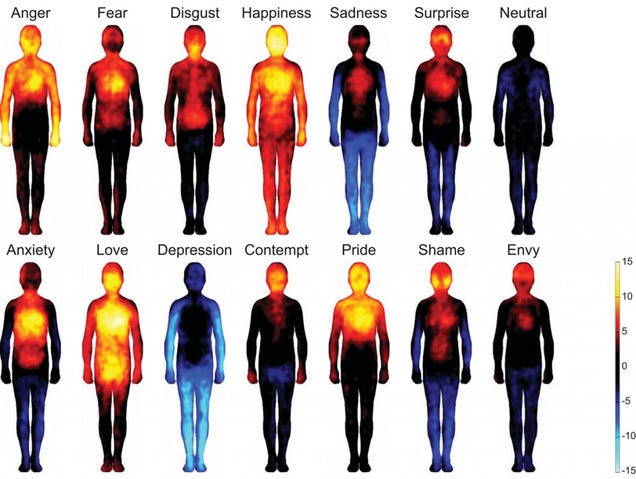 Graphic: Heat mapping shows where we feel emotions in the body.
Get Tested!
Emotional Intelligence
(EI) is the
leading indicator of workplace success
---far outweighing IQ. Self-awareness is the first step to EI. Take advantage of the emotional intelligence tests and tools listed below and IMPROVE your EI for better stress management.
How Emotionally Intelligent Are You?

The "Quick Fix" When You Don't Feel Emotionally Intelligent

Ask yourself these EI questions...and get some relief immediately.


Will this matter in five weeks?


Am I in someone else's business or in my business?


What about this person/situation irritates me? Do I have that trait? And if so, do I dislike it in myself?


Why don't I like that trait?


Research shows if I hold this thought for longer than 17 seconds, I run the risk of physical illness. Is this worth getting sick over?


Do I want to stay in this job? If yes, is my stressful thought creating behaviors in me that ensure my continued employment or potentially harm it?


If I do not want to keep this job, is my stressful thinking creating an exit strategy that will result in an excellent reference?


What are the TOP THREE reasons I like this job?


Am I trying to be right or do the right thing? Do I get the difference?


What am I worried will happen if I stop thinking about this?


Are my thoughts about this completely true---or is it possible I have partial information? Is it possible I have filled in some gaps in a negative way?


PDF of these questions (for printing).
Components Needed for Emotional Intelligence (all developed on this site).

Effective and Free EI Test

What Now?




Go to

'Articles' for Deepening EQ
or go to My Blogspot
for Information That is More Experimental or 'Cutting Edge' to Increase Emotional Intelligence


Or try hypnosis:


Emotional Intelligence Download

Have A Comment About This Topic?
Share it!